FEATURED PROJECTS
CLEVELAND INDIANS BASEBALL STADIUM, CLEVELAND OHIO
Various HVAC systems (Central chilled water, Central heating, District Steam heating/chilled water cooling, Packaged water cooled units, variable air volume systems, terminal fan coil units, Thermal ice storage, Cogeneration systems) and various energy sources (gas, steam, electric, hot water) were contemplated and evaluated for this complex facility with diverse functions and occupancies . The selection of the HVAC system and the energy source was based on the detailed life cycle cost analysis.

The facility included areas, such as, Service Tunnels, Underground Vehicle Parking, Batting/ Pitching Tunnel, Kitchen/ Dining area, Stadium Club, Club Lounge, Press Conference Room, Loge Boxes (Suites) at various concourse levels, Dug-out suites, Concessions/ Novelties/Vending areas, Exercise Rooms, Locker Rooms, Toilet Rooms and a four story Administration Building.

An all electric heating system and a 1200 ton central chilled water system with two electric chillers /cooling towers and variable flow primary/ secondary pumping system was used. The heating/ cooling needs of the facility were served by 73 Air Handling Units( 765,365 cfm) with electric heating coils (5722 KW), Fan Coil Units ( 151,615 cfm), VAV Boxes (971 KW), Electric Duct Heaters ( 1594 KW), and various Unit Heaters/ Cabinet Unit Heaters (2594 KW). The Service Tunnel ventilation system was designed to be controlled by NO2/CO sensors. The entire facility was controlled by Direct Digital Control based Building Automation System.

The complex plumbing included special care to prevent freezing of piping running through several non heated spaces, analysis included evaluation of Central versus individual grease traps for Kitchens/ Concessions, evaluation of Central hot water versus point of use hot water system, Summer/ Winter Storm Drainage System, Irrigation and Drainage system of the playing field using Prescription Athletic Turf (PAT) System, Hot / Cold water distribution system, and Natural gas distribution system.

The Fire Protection system included careful identification of the hazard classifications of the diverse occupancies, Dry pipe / Wet Pipe Sprinkler
systems, Fire Pump System design and locations of stand pipes and Sprinkler risers.
---
ELYRIA HIGH SCHOOL, ELYRIA OHIO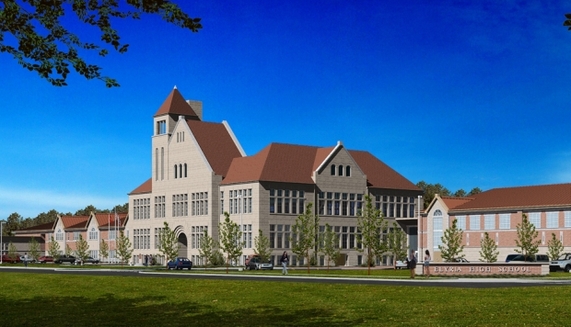 The Principles of H2L1 Engineering, Inc. provided HVAC, plumbing and fire protection consulting engineering services for this project while employed with a different firm. The new school facility has 255,000 sq. ft. of floor area, in addition to the historic 1894 Washington Building renovation. The project consisted of an auditorium seating capacity for 800, makeup and dressing rooms, scene shop, storage rooms, drama storage room, gift shop, concessions, ticket booth, coat rooms, project class rooms, academic core space, special education rooms, media center, science rooms, one large gym, auxiliary gym, multi-use physical education rooms, physical health rooms, training weight rooms, spacious dining room, central kitchen, a food service area and green house, etc.
This school has been provided with a geothermal system, which takes heat from the earth and uses it as an energy source. The system includes 320 wells, 500ft. deep, each well and one large underground vault is connected to the main pumping package unit with 12" diameter geothermal supply and return lines. The geothermal system uses heat pumps and provides an energy savings of 40%.
---
GREAT LAKES SCIENCE CENTER, CLEVELAND OHIO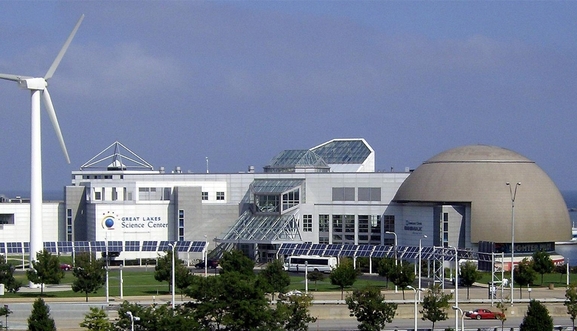 The building is three stories high and has 130,000 square ft. of floor area. The museum consists of exhibition halls, Omnimax Theater, auditorium,
administration offices, shops, locker rooms, toilet areas and restaurant.

The HVAC system included two gas fired boilers, chillers, one cooling tower, pumps, central air handling units VAV systems, single zone systems primary/secondary variable speed pumps, chilled water supply/return, heating hot water supply/return, cooling and tower supply/return piping. Sound attenuators were installed in the Omnimax Theater and auditorium ductwork to cut down air noise.

The plumbing systems design included water saver type plumbing fixtures, domestic hot water, cold water, sanitary, vent,
storm piping etc. For fire protection a wet pipe system was provided.
---
OLD ALLEGHENY COUNTY JAIL, PITTSBURGH PENNSYLVANIA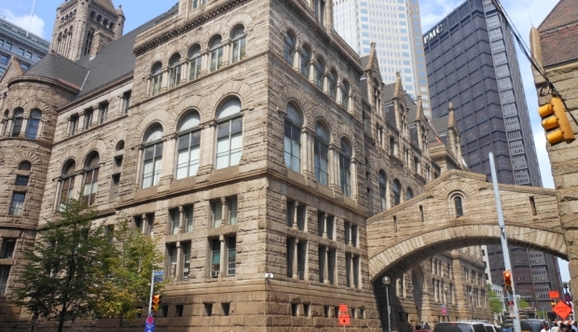 This project was an engineering challenge to convert an existing Allegheny County Jail into a Court House. The existing floor to floor heights were restricted, which presented a real challenge for the HVAC systems. The new HVAC systems were selected to adapt to the existing height limitations.

Heat pumps, coupled with water cooled packaged air conditioning units were selected. A separate 100 percent outdoor air unit was used to bring tempered
outdoor air into the building through existing turret openings. Each heat pump was provided with ducted outdoor air connection. Existing city steam was used to generate heating hot water through steam to hot water converters. A cooling tower with plate and frame heat exchanger was used for rejecting the building heat. The heat pump loop was designed to maintain temperature between 60 –90 degrees Fahrenheit. The variable air volume systems were used for individual zone control. The Rotunda, the most aesthetic component of the architectural design, was provided with a smoke removal and a make up air system. A Direct Digital Control (D.D.C) based Building Automation System was used for HVAC controls.

A new plumbing system consisting of cold/hot water distribution system, sanitary system was integrated to the existing plumbing systems. A steam to hot water domestic hot water system was used. New plumbing fixtures were provided. A new fire sprinkler system was designed for the
building.
---
GRANT STREET TRANSPORTATION CENTER, PITTSBURGH PENNSYLVANIA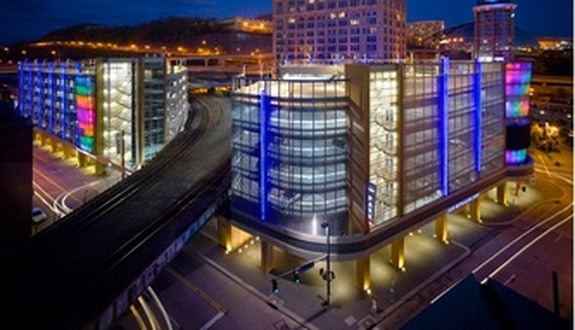 The Grant Street Transportation Center Project consisted of Greyhound spaces and Pittsburgh Parking Authority (PPA) spaces. - The Greyhound Facility included areas with diverse occupancies¸ such as bus parking, waiting area, ticketing, offices, rest rooms, lockers, kitchen, conference room, training room, traveler and driver lounges, GCX/GPX counter and equipment rooms. Two (2) high efficiency natural gas-fired hot water boilers were used to generate hot water and two (2) air cooled chillers with 25% propylene glycol were used to generate chilled water.
---
GCRTA WINDERMERE RAPID STATION, EAST CLEVELAND OHIO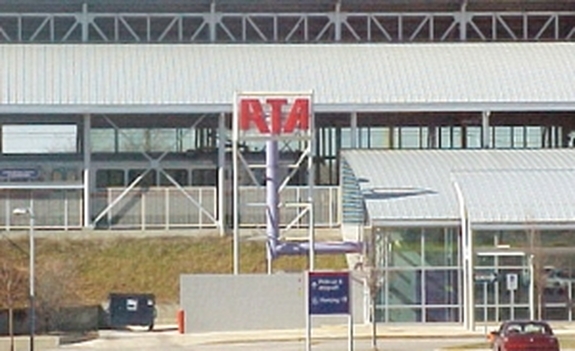 Windermere station was built to transport passengers from East Cleveland to downtown Cleveland and on to Cleveland Hopkins airport. During rush hours the
shuttle transit runs every 15 minutes. The station has multi-level platform. The station consists of a platform passenger sitting areas, toilet rooms, eating lounge, transit staff offices, and two escalators. Stairs are provided to enter platform from street.

The main station is heated with gas fired HV units. Supply air registers were provided for air circulation. Toilet and machine rooms were ventilated. Kitchen area was provided with range hoods. Office areas were air conditioned and heated.


The toilet areas were provided with standard plumbing and handicapped plumbing fixtures. Sanitary, vent, hot water and cold water piping was provided for plumbing fixtures. Gutters were provided for storm piping.
---